At Illuminosi, we feel that computers should be easy to use for everyone. Well designed software works the way you do, and we try our best to understand your stakeholders before we write any code.
You know your business- dealing with customers and suppliers is your first priority, not struggling with technology issues and quirky computer experts who seem to speak a foreign language.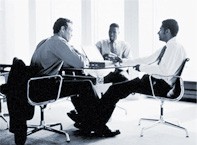 Illuminosi has a rich history in computer technology ranging from Windows and Linux/Unix software design to medical and satellite imaging systems. We understand the security and reliability issues surrounding computer networks from routers and WiFi to web servers like IIS and Apache. Our software design experts can help you create reliable and secure hardware, firmware and software products that will reflect well on your business. Company History
Our consulting services span:

Product development
Information technology and systems integration
Program and project management
Technology and innovation
Strategy and marketing
People and organizational change
Business development

Read more about Illuminosi's consulting capabilities

The shareholders meeting was again held at the Westin Maui this year. For a copy of the minutes, contact shareholder services.
11/04/2011
Illuminosi develops its first Android application that gathers real time weather data and displays it on Android tablets. This is specifically designed for cruising sailors who want to keep their vessel in optimum sail trim. Future versions will be geared to the needs of competitive sailors as we understand their needs better.
11/25/2007
Illuminosi ships network control application for Response Biomedical, providing Windows application development expertise. The application is fully localizable for their international markets, and 64 bit neutral.
9/17/2007
Illuminosi develops community sites for medical and musical applications. In one case, medical diagnosis and specialist referrals are made easier, while in the other scheduling and sheet music storage is provided.
11/27/2005
Illuminosi completes their first consulting contract, providing a database application to a military customer. This database uses the latest in Microsoft's .NET and SQL technologies and will fill a much needed gap in the customers technology arsenal.
12/05/2004
Illuminosi incorporates
While working for some of the top software companies in the world, the founders of Illuminosi saw that it was time to provide what others had not- software development services for small businesses.
Illuminosi is here to provide system development services for Web, Windows and Linux/Unix/Android platforms.
Read more