Illuminosi is a small company, made up of former big-company people who want to produce software without the overhead of a big company. We are all engineers at heart who love to "design stuff", interacting with the stakeholders directly to achieve the best design. Sometimes this means a deep history of design documentation in a database, but more often it means whiteboards covered with post-it notes that generate wireframes and a behaviour document.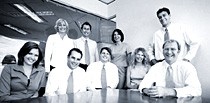 Our management team understands development projects like few software companies do. We have been in the unique position of working for some of the largest software and hardware engineering companies in the world. At the same time, we also have been involved in the founding of several venture capital and private funded startups.
Having the big-company experience has given us the vision to structure a company that will delivery reliable, capable software without the overhead of a megafirm. We aren't handicapped by layers of management, so communications happen quickly and smoothly. Often, our developers will be in direct communications with your staff; discussing issues of user interaction, performance or usage scenarios. This gives us the ability to deliver products that are right the first time.



Illuminosi's Consulting Division
Organized and chartered to provide hardware, firmware and software design consulting services. Read more

Illuminosi's Products Division is designing products for sailors who share our passion for technology. If this interests you, please read more here.
Illuminosi's management team has been involved with the following diverse industries:
Electricity- nuclear and coal
Financial services
Government and public services
Heavy Manufacturing
Life sciences- healthcare and pharma
Military
Retail- big box
Telecoms
Transportation
We have been also involved with the following small businesses:

Contractors, residential and commercial
Doctors, Chiropractors, Dentists
Light Manufacturing
Professional services- legal and accounting
Real Estate offices
Retail- 1-5 registers
Sustainable tourism